Temple Bat Yam invites you to join us in worship and Torah Study.
Friday Shabbat Services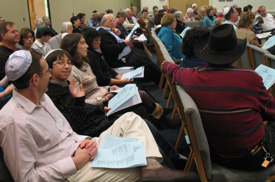 Come and experience a joyful Friday night Shabbat Service led by Rabbi Arthur S. Rutberg, Cantorial Soloists Cheryl Taustin and   Phyllis Alpern, accompanied by Organist June Todd. All Friday night services from March through December are held at 7:30 PM. Join us for a delightful Oneg following the Service and get to know us. During January and February, services are held at 5:30 PM with Oneg at 5:00 PM.
Click Here for TBY's Service and Events Calendar.