Temple Bat Yam invites you to join us in worship and Torah Study.
Friday Shabbat Services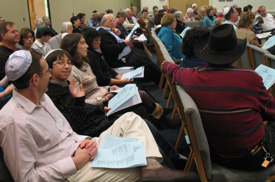 Come and experience a joyful Friday night Shabbat Service led by Rabbi Estelle Mills, Cantorial Soloist  Phyllis Alpern, accompanied by Organist June Todd. All Friday night services from March through December are held at 7:30 PM. Join us for a delightful Oneg following the Service and get to know us. During January and February, services are held at 5:30PM with Oneg at 5:00 PM.
Click Here for TBY's Service and Events Calendar.