Join Us! Two Exciting Opportunities —
FOR SEASONAL VISITORS TO DELMARVA PENINSULA:
Join Temple Bat Yam as a Friend for $275 Annually CLICK HERE for Friend Membership Application
FOR YEAR-ROUND RESIDENTS AT THE SHORE:
Join Temple Bat Yam. Click Here to Request a Membership Packet
Questions? Call our Office at 410-641-4311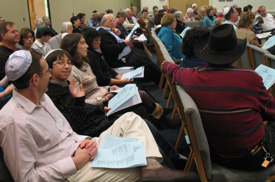 The TBY community is diverse and welcoming. Among the distinctions that make our congregation strong and vibrant is our policy of inclusiveness, whereby we respect the realities and integrity of interfaith marriages and interfaith families. Though the majority of our members live on the Maryland and Delaware shore quite a few of our members have their primary residence elsewhere and are congregation members near their home.
Our new Friend membership category is open to those whose primary residence (as determined by the IRS) is located outside of the Delmarva Peninsula and who visit seasonally or on weekends. The annual $250 fee, whether family or single, allows our Friends to avail themselves of multiple offerings, including honoring Yahrzeits, attending High Holiday services at no cost, and meeting our local community congregants whether at Shabbat Services or in social settings. Becoming a Friend is easy to do. Just Click Here.
Our continuing Gift of Membership Campaign is available to year-round residents, providing an opportunity to "test drive" our TBY experience for 12 months without dues. You are welcome to join the Sisterhood, participate in one or more committees, and join in activities helping our greater community. New members joining as part of the Campaign are also eligible to join our religious school program and enroll their children (with a modest fee). To request a Membership Packet, just Click Here.
For more information, email or call our Temple office (templebatyam97@aol.com; 410-641-4311) or email our Membership Chairperson Doreen Linehan.