Temple Bat Yam, A Reform Jewish Congregation Serving Delmarva's Eastern Shore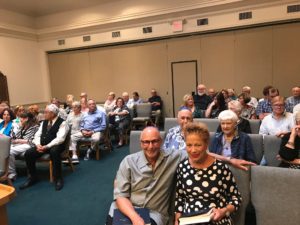 Discover Temple Bat Yam, an inclusive and welcoming, reform congregation just minutes from Maryland and Delaware beach resorts. Serving the growing Jewish population on the Delmarva Peninsula, Temple Bat Yam is a Reform Jewish congregation committed to the ideals and eternal truths of Judaism and to maintaining the traditions and lessons of our rich heritage.
Temple Bat Yam, founded in 1989, has grown to almost 300 members today. Until we moved into our new synagogue in 1997, we conducted our services at area churches, restaurants, hotels, community centers and private homes. The first synagogue built on Delmarva in over forty years, our new home is the focal point of our congregation's activities today. The building houses a beautiful sanctuary, expandable classrooms, a spacious social hall, and catering facilities, as well as a Judaica shop, our business office and the Rabbi's study. Capped with a domed skylight, the sanctuary area seats 200 worshipers for Shabbat services and expands to accommodate up to 400 worshipers during High Holy Days.