The PJ Library – Jewish Bedtime Stories & Songs for Families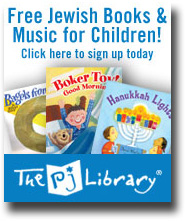 The PJ Library program supports families in their Jewish journey by sending Jewish-content books and music on a monthly basis to children from age six months to five, six, seven or eight years depending on the community. Created by the Harold Grinspoon Foundation, The PJ Library is a national program implemented by local communities.
At this time, The PJ Library is available in more than 100 communities across the United States. Each community is sponsored by a local Jewish organization and local donors who share a passion for vibrant Jewish life.
Temple Bat Yam is excited to offer the PJ Library FREE to members of our community.
"The P J Library" and "The P J Library logo" are registered trademarks of The Harold Grinspoon Foundation. All Rights reserved. ®
Click Here to sign up for the PJ Library. Thanks to our generous sponsor enrollment is absolutely FREE!