Religious School: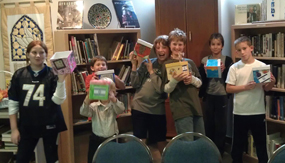 Religious School is held three Sundays a month from 9:45 am to 12 noon. In addition to Sunday School, Temple Bat Yam provides weekly Hebrew instruction for children approaching Bar or Bat Mitzvah age. Our mission is to enable participating students to:
Transfer what they learn at religious school to their homes and lives.
Understand the concepts behind the Jewish holidays and rituals.
Have a basic understanding of Torah and Bible.
 Understand and feel a commitment to Jewish ethics.
Be able to participate in a Reform Jewish service.

Adult Education:
TBY offers a wide variety of adult education classes. Our members come from many backgrounds. Many members have non-Jewish spouses and many members would like to further their religious education. We want to learn more about the Torah, Judaism, and the principles underlying our faith. With this in mind, the adult education committee, with the assistance of Rabbi Estelle Mills, has designed the adult education curriculum for the coming year. Several courses are designed for people interested in converting to Judaism and for those interested in adult Bar and Bat Mitzvah. However, everyone is welcome to attend any and all classes.