Previous Serving Rabbis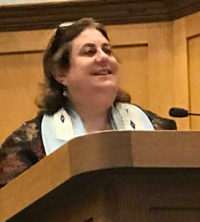 Rabbi Estelle Gottman Mills
Rabbi Estelle Gottman Mills received her honorary doctorate for twenty-five years of service as a rabbi in 2017.  Most of those twenty fiveyears were spent serving as the rabbi of Congregation KolChadash in the Cleveland suburb of Solon, and as the rabbi of Congregation Kol Am in the St. Louis suburb of Ballwin. Under her leadership, these congregations experienced significant growth in membership and in their religious schools.  She has most recently served as the interim rabbi of Temple Beth Am in Parsippany, New Jersey.
Rabbi Mills has been recognized for her innovative and cutting edge programming. She was the recipient of the prestigious Legacy Heritage Innovator Grantand the Union for Reform Judaism has recognized her creative and innovative programming by awarding her an Incubator Grant for her Family Education Program: "Exciting Destinations, Jewish Explorations" and a Belin Award for her Membership Program: "No Regrets Membership".
Her rabbinate has always included very active and ongoing involvement with the school and young families of the congregations she has served. A gifted educator, she passionately believes that strong, high quality Jewish educational opportunities and programming for all ages from seniors to the youngest learners are essential to strengthening and growing today's congregations.   For her, the response to declining involvement in congregational life is not watering down content; rather the answer is to make these experiences valuable, meaningful and accessible. She believes Judaism can coexist and enhance competing secular activities, but only if Jewish programming is innovative, creative, exciting and flexible enough to be compelling to today's Jewish individuals and families. She recognizes that we are living in a time of great innovation in almost every area of life, and Jewish institutions must embrace these innovations to attract today's families.  She has been recognized and led workshops for her use of "Public Space Judaism", using outside public venues for activities that then bring the unaffiliated into the congregation.
Rabbi Mills was ordained by the Hebrew Union College-Jewish Institute of Religion in Cincinnati in 1992, and holds a B.A. with honors in Jewish History from University of Michigan. Rabbi Mills lives in Mountain Lakes, New Jersey.  She and her husband, Rabbi Steven Mills are the proud parents of three children, Rafi, a 2015 Lehigh University graduate currently working at a government nuclear facility in Schenectady NY, Sivan, a 2017 University of Pennsylvania graduate who works for Aetna Insurance in Philadelphia and Noa, a student and soccer player at Skidmore College in Saratoga Springs, New York.
Rabbi Susan Warshaw, Emeritus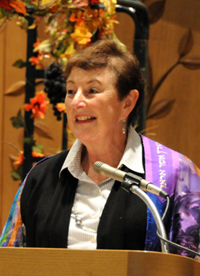 Once meeting Rabbi Susan Warshaw, it would be difficult to believe that she hasn't always been a spiritual leader. Her concern for people is reflected in her services, where her knowledge, warmth and friendliness are appreciated by the congregation.
After having filled in once a month for interim Rabbi Reena Spicehandler, Rabbi Warshaw applied and was enthusiastically accepted as full-time rabbi of Temple Bat Yam, where she began her new career in July 2008.
Before coming to the Eastern Shore, Rabbi Warshaw served as Rabbi/ Education Director of Temple Micah in Washington, D.C. She will also serve as Education Director at Temple Bat Yam.
Married and the mother of two grown children, the Montana native decided to give up a successful career as a concert pianist and teacher to follow her desire to become a rabbi. With their full support, she left her Virginia home and spent a year studying at the Hebrew Union College's Jewish Institute of Religion in Jerusalem, Israel. She then returned to finish her studies in the United States. She received her Master of Arts in Hebrew Letters in 2005 at Hebrew Union College's Jewish Institute of Religion in Los Angeles and was ordained in May 2007.
Rabbi Warshaw has served as a student chaplain at UCLA hospitals, counseled cancer and hospice patients and is a certified premarital and marital counselor.
Passionate about Judaism, Rabbi Warshaw's goal is to personally meet with all the members of the congregation and learn what issues are important to them, to develop an outstanding religious school, and to interact with the community at large.
Rabbi Reena Spicehandler
Since leaving her service at Temple Bat Yam, Rabbi Spicehandler continued with her chosen preference, serving as Interim Rabbi for other congregations. During 2009, she took a year off to pursue personal interests. For the month of July 2010, Rabbi Spicehandler returned to TBY to fill in while Rabbi Susan Warshaw was studying in Israel. The Temple welcomed her back, remembering her zany costume and her playfulness during Purim and other joyous holidays.
Our Rabbi from June of 2007-July 2008 was Rabbi Reena Spicehandler. Rabbi Spicehandler graduated from the Reconstructionist Rabbinical College in Wyncote, Pennsylvania. Over the past five years, she has focused her career on serving congregations as an Interim Rabbi, helping several Reform communities resolve conflicts and clarify their identity as a congregation and helping each of those congregations create a vision of its future.
She has extensive experience teaching both adults and children, and she is a Founding Board Member of the Interfaith Center of Philadelphia. Rabbi Spicehandler is fluent in Hebrew and French and has a reading knowledge in several other languages. Prior to specializing in being an Interim Rabbi, she served as Dean of Students at the Reconstructionist Rabbinical College for 10 years.
We thank Rabbi Spicehandler for her year of service. Although she served TBY for just a year her presence will be felt for much longer. We wish her well and continued success in her chosen unique rabbinical calling.
Rabbi Morton Kaplan
Rabbi Morton Kaplan joined Temple Bat Yam in 2000 and served as spiritual leader for six years. He is retired and lives in Charlotte, NC. As anchor of our Jewish community, he and his wife Joan helped us celebrate many happy events, such as weddings, baby namings and bar and bat mitzvot, and were there to ease our grief at the loss of loved ones. They were the first to visit the sick in the hospital or at home. Under his guidance, the Temple's shabbat and holiday services were well-attended and the monthly Havdalah pot luck dinners and discussions continued to draw good attendance. He especially enjoyed conducting our annual Passover Seder, where he encouraged the children and adults to participate in the service.
A dedicated scholar and educator, Rabbi Kaplan excelled in teaching adult education classes about Jewish and biblical history, as well as classes for adult bar and bat mitzvot. Rabbi Kaplan was the voice of the Jewish Reform community in the Ocean Pines, Berlin, Ocean City and Salisbury areas, where he participated in many interfaith activities. He was a strong supporter of social consciousness and worked hard to make our annual Mitzvah Days successful.
He received a BA degree in Ancient and Medieval European History from the University of Cincinnati. After attending Hebrew Union College, he received his Rabbinical Ordination and Master of Hebrew Letter, with honors in 1967. After serving two years as an Army Chaplain, Rabbi Kaplan became Assistant Rabbi at Temple Emanuel in Lynbrook, NY from 1969-1971. He served as Rabbi at North Country Reform Temple in Glen Cove, NY, Temple Sinai in Newport News, VA and Congregation Beth Israel in Woodbury, NJ–a small congregation which he served on Shabbat and holidays. During the years 1979-2000, he was involved in a family owned business. Committed to Reform Judaism and its outlook on the world, Rabbi Kaplan is a member of Temple Beth-El in Charlotte, where he continues to teach–on a part-time basis–about Judaism in general and the meaning of Reform Judaism in particular.
Rabbi Emeritus & Founding Rabbi
Richard S Sternberger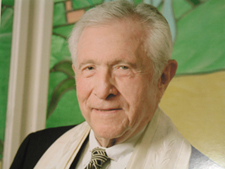 Rabbi Richard Sternberger grew up in Philadelphia. He was ordained as a Rabbi in 1952. From 1952-54 he served as a Navy Chaplain. He became Assistant Rabbi at Baltimore Hebrew Congregation in 1954 where he remained until 1958. In 1958 he was appointed as Rabbi of the Jewish Community Center of White Plains, later to be called Kol Ami. During the summer of 1964 he worked in Macomb, Mississippi to help register black voters. A staunch civil rights supporter he continued to march in Washington for equal rights for all citizens. In 1967 he joined the UAHC (now URJ) as the Assistant Director of the New York Federation of Reform Synagogues, later moving up to the position of Regional Director of the Mid-Atlantic Council.
In addition to being active in civil rights, Rabbi Sternberger was a major force in NFTY the reform movements youth group, and also in AZRA the reform movements zionist arm.
One of his duties as Regional Director was the formation of new congregations. He met with a small group of people interested in starting a reform congregation, and helped us form what would become Temple Bat Yam while serving as our part time Rabbi.
After his retirement with the UAHC, Rabbi Sternberger became our first permanent Rabbi of Temple Bat Yam. He retired fully in 1999, and now lives in Falls Church, Virginia. As a tribute to his contribution to social action, the Richard Sternberger Social Action award is given yearly at Temple Rodeph Shalom in Falls Church Virginia.
Rabbi Sternberger passed away on January 11, 2010 after a brief illness. The Temple honored our Founding Rabbi with a special memorial service on April 25, 2010. Many of his friends gave testimonials to the joy of knowing him, citing his assets as well as his faults. These were followed by a video depicting his close relationship with many congregants. Several of his friends also put together a book of memories.